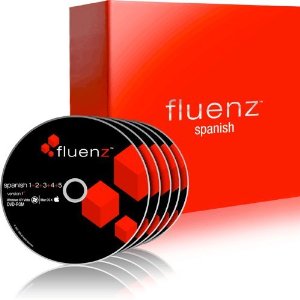 In this review we look at Fluenz which turns out to be a quite comprehensive and well constructed system for people looking for a program for self-paced language training at home. There are many products for foreign language learning available in the market today but Fluenz language courses are one of the most advanced and modern looking tools which can really help you to learn and become fluent in a foreign language.
Read on for our action packed Fluenz review or if you just want to go ahead and buy it then head straight over to Amazon now where you surely wont be disappointed.
Review of:
Fluenz
Rating: out of 5
Reviewed by:
BadatLanguage

Key Features
Mac & Windows
150 sessions in full course (75 for Mandarin)
Video & Audio
Real world context
French, Spanish, Italian, German, Mandarin
100% money back guarantee
Sonia Gil (founder & presenter)
Fluenz is a relative newcomer to the market and does not yet cover quite so many languages as some others such as Pimsleur or Rosetta, but if you are itching to learn to speak Mandarin, French, Italian, German or Spanish (Latin America or Spain) fluently, this is certainly one of the better options available these days.
This language training course features approximately 150 sessions in total, with about 30 sessions per level over 5 levels (but only 3 levels available for Mandarin at the moment), and each lesson comprises approximately 2.5 hours of instruction in the form of flash movies, lectures and interactive workouts and reviews to help fortify the learning.
With Fluenz the focus is on realistic conversation using everyday language and in-depth explanations to ensure you really know what you are learning. This modern language course will help you learn through the use of full-motion video which provides a one on one tutoring experience, engaging you in the culture and placing you in real world contexts. Fluenz comes on a set of DVD and audio CD's and it is the increased data storage provided by the DVD format which helps accommodate all the video that is fundamental to the Fluenz system.
As seems to be common amongst the big language learning programs, Fluenz is also used by various government branches and military including the US Navy, UN personnel as well as Fortune 500 execs and various universities.. take that for what you will.
System Requirements
Windows 7 / Vista / XP, Mac OS X
DVD Drive
As with Rosetta Stone there is currently no Linux support in Fluenz so if you only have Linux your best bet would be Pimsleur instead which runs on anything that can play an mp3 audio file. There are however some reports that Fluenz will mostly run on linux using WINE, but of course there are no guarantees on that so if you do try it you do so at your own risk!
Customer Feedback
"Well worth the time and money"
"Excellent program for an adult language learner"
"Brilliant program to help you learn"
"Customer support is fantastic"
"Very effective way to learn"
"Hands down, the best and easiest way to learn"
There's no shortage of glowing reviews like the above online and 4 or 5 star ratings is pretty much the norm when it comes to Fluenz customer feedback these days which should be a good indication of the value and effectiveness of this system.
You can browse and buy the full range of Fluenz courses on Amazon which as always is one of the safest places to shop online.